Introducing NurseNotes
NurseNotes is an all-in-one, full-featured software program that helps busy school nurses streamline vision and hearing screenings as well as data recording tasks. It saves time, avoids errors, and bypasses endless paper trails, so you can spend more time doing what you love — focusing on the well-being of students.
Using and accessing NurseNotes is effortless and can be done anywhere — even if you don't have internet connectivity. The information you save is directly backed up to our safe and secure servers whenever internet is available. NurseNotes gives you the opportunity to remotely check in on your student vision screening scores, print teacher rosters, generate referral letters, and more.
NurseNotes is currently used by over 200 schools, covering over 180,000 students.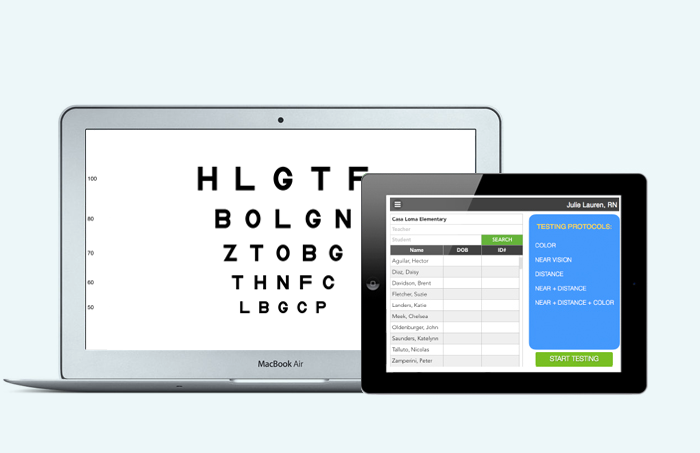 Visual Acuity Test
Complete with 5 full sight tests: Near Vision, Distance Vision, Astigmatism, Color, and Muscle Balance.

Audiometry Testing
Easy to use, portable audiometry equipment to do pure-tone testing.

Dental
Record and save Dental screenings easily and quickly. Contains all the fields required for Oral Health Assessments.

Charting and Documentation
Fully customizable charting and documentation for office visits, phone calls, as well as medical treatments.

Automatic Data Recording
Simple one-click data recording for all tests and access to full student histories with instant access to each record for extra efficiency.

Reports & Analytics
Secure access to student data allows report generation, with charts and analysis on students screened, year-by-year comparison, and referral tracking.

Display Records
Instant access to each student record with or without the internet.  Tools provided to integrate with your Student Information System (SIS).

Print Documents
Print student rosters, screening summaries, and referral letters directly from the software.